Don't Miss This Advertising Tool That Has Proven Results to Optimise Your Campaign Reach!
Have Your Ever Tried Traditional Marketing Modes and Wonder Why Your Ads Don't Seem to Impact Your Consumers?
Have Your Ever Tried Traditional Marketing Modes and Wonder Why Your Ads Don't Seem to Impact Your Consumers?
Try Tissue Advertising!
Tissue Advertising uses the space on a tissue pack to advertise your products/services.
Why HappyTissue?
Specialized Tissue Advertising Firm
Now, which type of pack should I choose?
Wallet Tissue
Want to cater to a large audience and achieve greater exposure plus a higher rate of acceptance?
Use a Wallet Tissue Pack.
Widely used type of TISSUE PACK
High quality packs with a PREMIUM feel.
FOUR PANELS – Choose between MATT or GLOSS finish to compliment your design.
Tip:

Happy

Tissue

uses the optimal texture and thickness for the base material on a high capacity printer to ensure clarity.
Cardboard Tissue
The perfect solution when it comes to incorporating a wide range of designs into your advertisement is a Cardboard Tissue Pack.
Packs with a larger palette for MORE DESIGNS and COLOURS.
THREE or FIVE panel packs with either MATT or GLOSS texture.
Additional ELEMENTS can be incorporated – vouchers, coupons, etc.
Tip:

Along with the right cardboard thickness,

Happy

Tissue'

s packs are laminated to increase the level of water resistance and make the packs more attractive and long lasting. The tissue packs are also secured with strong glue to ensure that they remain on your printed ads.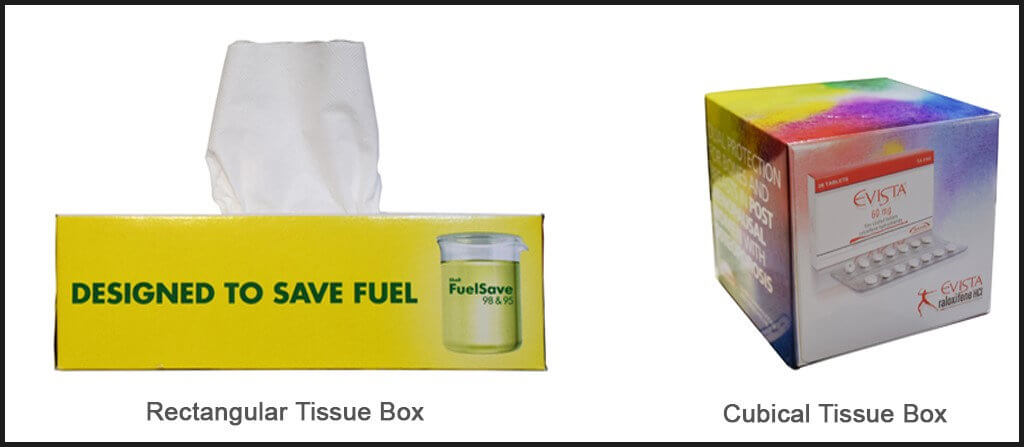 Tissue Box
Tissue Boxes are the ideal long-term solution as the audience is exposed to the message over a longer period of time. .
TISSUE BOXES – add your brand image/logo to achieve greater exposure.
Available in a variety of SHAPES and SIZES – choose the one that fits your needs.
Tip:

Happy

Tissue'

s tissue boxes come with dust proof plastic for the opening, along with a high-quality cardboard and print attracts the consumer towards your tissue box and subsequently, your brands' message.
Customized Tissue Packs
Customized Tissue Packs help create a unique brand image in the market.
Adds UNIQUENESS to your brand.
FLEXIBILITY – packs can be designed to suit your needs and wants.
Tip:

Marketing specialists at

Happy

Tissue

can help you pick and design a tissue pack that ensures maximum efficiency.
Choosing the right design and logo can help boost your marketing needs and improve the efficiency of your campaign.
Need some inspiration? Check out our PORTFOLIO to gain some ideas on the type of tissue packs you can get.
Comments are closed.